BUS is regularly sending its meter readers and bill collectors to collect bill payments from customers.
If on the first visit, the BUS collector does not reach you, he will leave a notice stating the value of the bill and the date on which he  will come back to collect the due amount (usually in 3 days):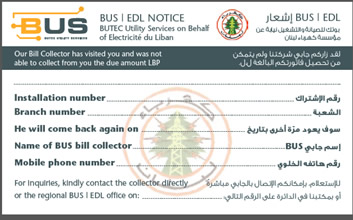 In case you are unable to be at home on the given date, please call the phone number written on the notice, and agree on an alternative date or arrangement with the collector.
You should only pay the amount stated on the bill, no additional charges apply!